Introduction to Orienteering
The London Park Races are orienteering races - instead of running along a pre-marked route, you navigate from control to control. Competitors start at one-minute intervals and the quickest person back, having visited all the controls in the correct order, wins.

At each control-point, which is marked by a distinctive flag, you "punch" the SI-card you will have been given, into the electronic timer. This proves you've been there and also means you get a printout of your split times at the end.

"Score" events are similar, except that you can visit controls in any order - but must return before your hour (or 45 minutes) is up.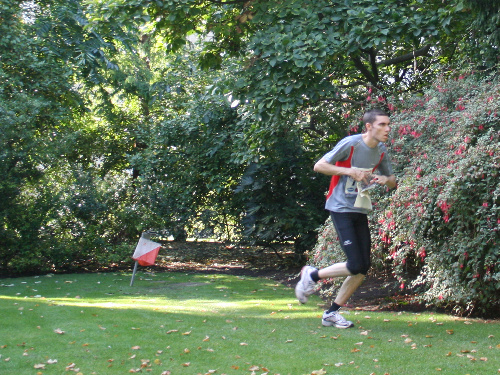 You don't need any special equipment, running in T-shirt should be fine, and running shoes or trainers. Some people may carry a compass, but you'll find the navigation straightforward in London parks.

The orienteering map that you are given at the start has the course marked on it in purple. Open areas appear in orange, with wooded areas in white or green. Orienteering maps are very detailed and most paths, fences and streams should be marked. An example map, showing part of Victoria Park in East London, is shown below.